Recently, I got the chance to talk to Christina, one of our amazing Granite Ridge brides whose wedding is set to take place this May. I was excited to hear their tale and like I had suspected, it was beautiful, unique and DEFINITELY magical.
How did you two meet?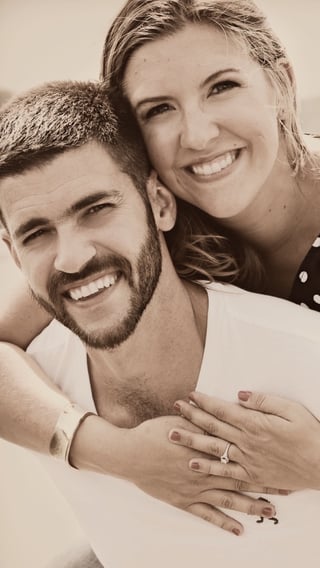 Not only have Christina and Ben grown up together, but their families have been friends for over 40 years. Ben's cousins are actually some of Christina's closest friends. Ben's extended family has hosted Christina's family at a cottage along the Maine coast for 3 generations. The cottage was actually purchased through trading staples – such as sugar and flour and upon their marriage, Christina will join the ranks of 185 other members of Ben's family upon their wall of family plaques. Anyway - Christina explained that because their families are so close, they had been taking family camping trips together for years without truly interacting until one fateful Fourth of July weekend where he sat down next to her by the fire just to chat. This was unusual, as Ben is very quiet. Later that weekend, another chance encounter led to the pair making plans and as Christina explains, "We've been inseparable ever since." Their love story has thrived throughout the years - despite many challenges. I was moved by Christina as she explained how they spent a year apart during Christina's last year at college. I tried not to tear up when she told me how Ben wrote her letters every week she was away and how the they both spent many a late night and early morning driving three and a half hours to and from school just to see each other for a night or even just a few hours. I was truly inspired by her sharing this with me, because so many people think that grand love stories can only be found in books but Christina and Ben prove that grand love stories happen every day.
How did you two get engaged?
Christina and Ben got engaged in the kitchen of their new home, as she was tending to their baby boy. They had been talking about getting married so one day Ben came into the kitchen and surprised her by getting down on one knee. Both Ben and Christina describe themselves as a simple couple with simple tastes, so the proposal suited them just fine. They are a testament to the idea that often times its the little things and the little moments that turn out to be the most meaningful.
Do you have a theme for your wedding?
Although there isn't necessarily a theme for the wedding - Christina and Ben's goal was to have "good food, good booze and good music," something we can all understand. Their colors are navy blue and peach and Ben's large Italian family is making homemade limoncello for each table. Both Christina and Ben simply want to have a fun time with their friends and family.
Which vendors are you excited to work with?
There are a number of awesome local vendors that Christina and Ben are excited to work with. Their wedding is being catered by Frog and Turtle, a French gastropub out of Westbrook, Maine. Chef James has been a staple at other family events so Christina and Ben knew right away that he was their guy. Their cake and desserts will be provided by The Winey Baker, a boutique bakery run by Jill Drew out of Poland, Maine that's serving up a delicious variety of baked goods - often with wine included! They are also enthusiastic about working with their accommodation vendor, Carly Cushman at Pave The Way Events and Greenwood Manor Inn. Their chosen band is another Maine staple - The Waiters. Christina's most raved about vendor is One Stop Event Rentals out of Portland, Maine. She explained that not only were they affordable, but they were a dream to work with and constantly worked to make their vision a reality.
How did you pick Granite Ridge and why are you excited to get married there?
One of the main things stressed about both Ben and Christina was their family values and the importance of "togetherness," so by having a wedding that will connect two families that have been lifelong friends, they wanted a venue that would allow them to truly come together for more than just one night. Granite Ridge was the one place that made it possible to not only accommodate their 232 friends and family on their actual wedding day, but the lodge itself allows the family to come together a few days early to spend quality time together and celebrate before the big day. According to Christina, "Granite Ridge is going to be such a wonderful place for us to share this experience and enjoy each other's company."