Many of our couples have entrusted Bread and Butter Catering Company to fulfill their culinary dreams on
their wedding day. If you haven't heard of them yet then MY GOODNESS WHERE HAVE YOU BEEN?! They are an incredible catering company based right here in Maine and even the photos of their food has me drooling. I was so excited that owner, Kate Schier-Potocki managed to make some time to chat with me!
Tell us a little about Bread and Butter
Bread + Butter prides itself on knowing how to throw a good party. Our service, food and drinks all reflect our desire to assist others in doing what we love to do. We focus on local ingredients, embracing the seasons and celebrating the bounty of this incredible state we are so lucky to call home. We offer many different styles of feasting, a full bar service, and many levels of party planning, often allowing our clients to skip hiring outside services. Our crew consists of industry-veterans who are both professional and professionally bad ass.
What inspired you to open B + B?
My husband Josh, our head chef/pirate captain, has owned + operated our bagel shop, 158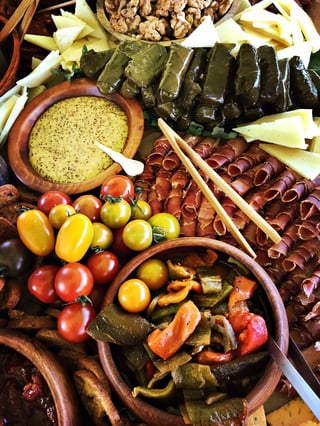 Pickett Street Café, for fifteen years. Upon my taking over the books, I realized that though the business and it's legacy is amazing, there is a certain inherent cap to the income of a breakfast + lunch spot. After graduating from art school, I began a career of catering and bartending in Portland restaurants where I witnessed the growth in the food and, especially, wedding industry. When we got pregnant with our son, I got a little overly motivated and started writing a business plan. With very little money and a lot of used equipment, we built a commercial kitchen and bakery out of a big empty warehouse. Today the warehouse is the furthest thing from empty.
Are you seeing any trends in food requests for your catering events?
Last year we debuted our "boards", which are 6ft or 3ft butcher blocks we have custom made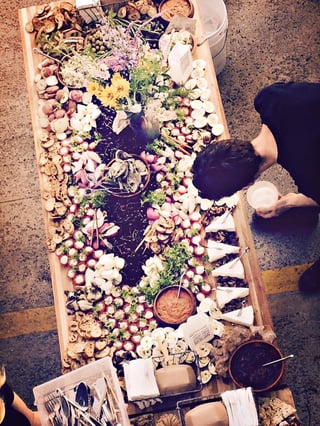 for us by the fine folks at the Maine State Prison. The boards are the base upon which we build huge, gorgeous, themed spreads of food, perfect for large parties looking to feed a lot of people and do it in style. These have been very popular with all of our clients, be it weddings or corporate events.
What is your vision for the future of Bread and Butter?
We never want to grow beyond what we know we can accomplish and therefore compromise our integrity. With that said, thanks to our incredible staff, we have doubled in business each year and have been able to not only maintain our quality but expand it. We are very thankful of this and hope to watch it grow further, create more jobs and throw more parties.
Do you have any advice for someone when looking to hire a caterer?
Make sure you can relate to them and they communicate efficiently and well! You will need to be talking to these people a lot in order to pull off a seamless event, so make sure you like them. Also, try their food! If you don't like their food, you shouldn't give them money. Asking for references/reading reviews is also never a bad idea. Best of luck in your search!