Eliminate the bathroom struggle with help from Bridal Buddy
This joy of a product, Bridal Buddy, went viral on Facebook, half because it seemed ridiculous
at first, and half because of how brilliant it is! Simply wear this nifty item under your dress, and when it's time to go to the bathroom. It will protect your dress and make life much easier for you!
A little baby powder on your inner thighs helps curb sweating, squeaking, and chafing.
It's hot in dresses in general – so a heavily detailed wedding dress is likely to be even hotter, which mean chafing is almost a guarantee. A little sprinkle of baby powder can combat some of that and save your skin!
Walk easy with The Solemates.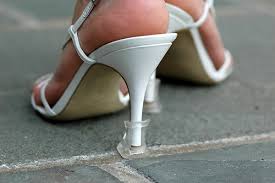 If you're having a rustic wedding outdoors but you still plan on wearing heels, Solemates makes a lovely cap for your heel to prevent it from sinking into the ground. It'll definitely make your walk down the aisle a little smoother. Heck, you could even provide some for your guests to help them in their heels!
Attach tiny weights to the bridesmaids' hems to keep their dresses from flying up on a windy day and veil weights to keep the bride's headpiece from flying away.
Being that Granite Ridge is an outdoor venue, we've seen many a dress or veil get picked up by the breeze. Luckily, some genius made weights that can be attached to your gown or veil to help prevent any embarrassing lifts!
Go to a trunk show instead of buying from a store – likely you'll find a discount
Remember, almost anything can be tailored to fit you – so consider attending a trunk show of your favorite dress designer. There are representatives at each trunk show that often will sell gowns at discounted rates on the spot.
Tuck a single knee-high pantyhose sock into your bag for deodorant marks
Who knows when you'll need to quickly swipe away some deodorant marks? Maybe yours will get on your partner's suit, or your bridesmaids will get some on their dress! Either way, it's a useful little trick.