Fire and Company recently visited Granite Ridge for the first time - catering the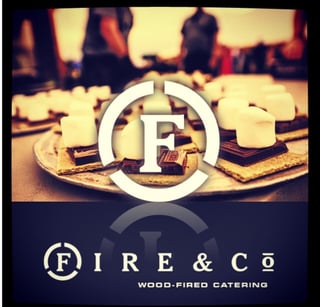 beautiful wedding of Bre and Matt. We were first greeted by the site of their bright red and beautiful refurbished 52 International Truck, which houses their kegs. Soon, the entire Fire and Company team had arrived on site and immedietly got to work. Before I start to explain the staff - I want to explain the efficiency of the Fire and Company system. Because they come with their own wood-fired grill, their are entirely self-sufficient. They don't need a single plug - in fact, any electricity they do need, they are already prepared with portable batteries. Honestly - it was one of the smoothest set-ups we had ever seen at Granite Ridge. BACK TO THE UNREAL STAFF, who are all experienced waiters, bartenders and cooks. Every person on the Fire and Co team was beyond friendly and they never stopped moving. They shuttled out unbelievably delicious food at a pace that was truly intimidating - but they never failed to stop and check on us, the Granite Ridge team, and they always made time to chat with guests, answering their questions or helping them out. Towards the end of the night - the team was falling over themselves to make sure the GR was taken care of; saving food for us and always asking what else they could do to help. I cannot say enough good things about Fire and Company, they are an absolute dream to work with and we all cannot wait to have them back at Granite Ridge. Thankfully - I got the chance to hang with them again when I spoke with Ryan, one of Fire and Company's founders.
1) What inspired you to open Fire and Company?
The idea of on-site wood fired catering at venues such as Granite Ridge is what really inspired Fire and Company. Providing a show along with laid back comfort food was the primary mission.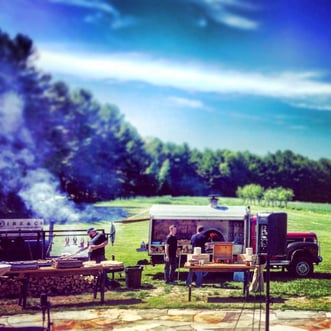 2) What sort of food do you provide to events and what is your style of cooking?
I always explain to couples that we provide wood fired comfort food presented in an elegant manner. Most, if not all, of our food is cooked over an open flame. We offer food that is approachable and appealing for all guests but is presented elegantly and memorable.
3) What are you determined to bring to every event you work for? What sets you apart?
What we bring to any event is a catered experience unlike most others. For example at Granite Ridge, guests will arrive and instantly smell the wood smoke as they step out of their vehicles. As they approach the venue they will see our vintage trucks or custom open flamed grills cooking the food they will be enjoying over the course of the evening. During cocktail hour they will not only enjoy the beautiful view of the mountains but will enjoy passed appetizers while standing around our vintage trucks and grills. What we bring is a more theatrical catered event.
4) What advice would you give to people looking to hire catering and bartending services?
I think it is helpful for couples to do their research. We try and make our website as transparent as possible. With videos, photographs, testimonials, pricing and fee's all listed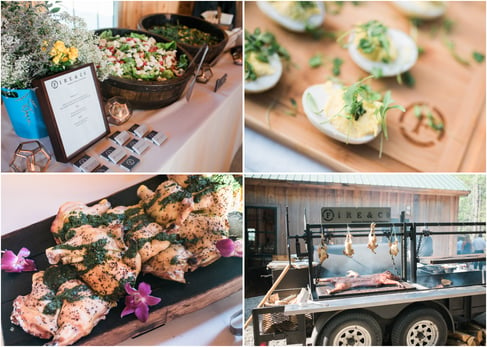 on our website it should give prospective clients
a very good idea of the value we add for their wedding day.
5) Are there any trends you're seeing in catering or bartending requests?
I think couples want more than a plate of food or a bottle of beer. They want something memorable. Our couples have chosen us because they want the experience we can provide. They want to stand around a fire and watch the food be cooked for them. They want to stand next to a 1952 Bar Truck with bourbon barrel walls made from Allagash Brewing barrels and enjoy a draft pour of Allagash White.
6) What is your vision for the future of Fire and Company?
We've experienced some pretty dramatic growth over the past couple years. Two years ago we had 2 pieces of equipment on the road but now we have 6. As long as couples continue to want the experience we can provide and we continue to employ amazing people there is no reason not to look for further opportunities.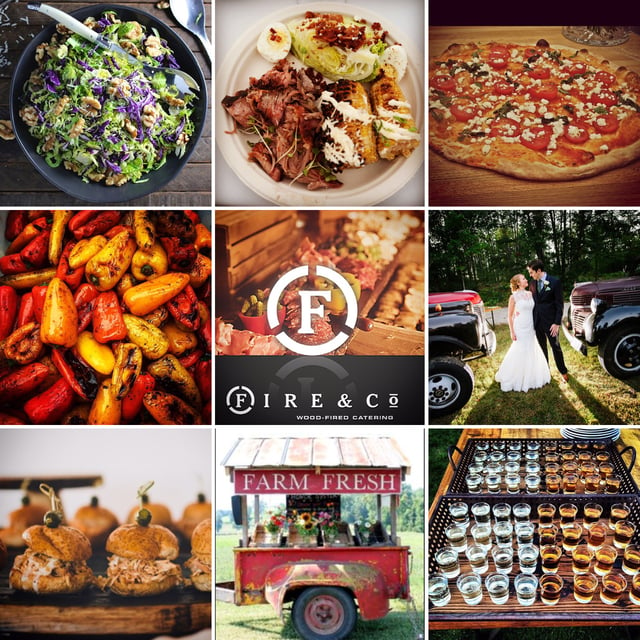 Photos courtesy of Fire and Company & Kelly Carey Photography