One of the best things about being in the wedding industry is interviewing all the talented small business owners that specialize in businesses that make your special day go off without a hitch especially when they are from our home town of Norway, Maine #HomeTownNorwayProud! This week I had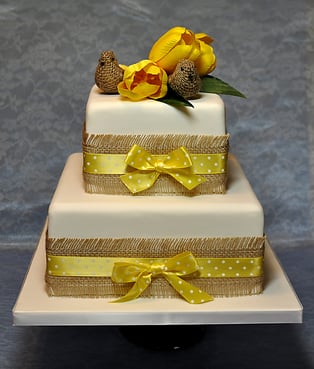 the pleasure of talking to Dorene Vail, Business owner of Dorene's Creative Cakes.
The wedding cake is a monumental piece of the puzzle when you start planning your wedding day. Of course, your family and friends are there to show their support for your blossoming relationship and be apart of your special day, however, we all know they secretly can't wait to take a look at the wedding cake! The wedding cake is a forever changing trend, just like every other aspect of the wedding event. It is important to engage with a talented, educated, and articulate baker for one of the most important aspects of your wedding day. Let's get the low down on this years wedding cake trends:
1. What are the 2015 wedding cake trends you have seen this year?

Couples are looking for rustic and simple cakes to match their wedding venues and styles. We are still seeing a huge boom in the Rustic chic wedding so it is not a surprise cakes are still following this trend. They are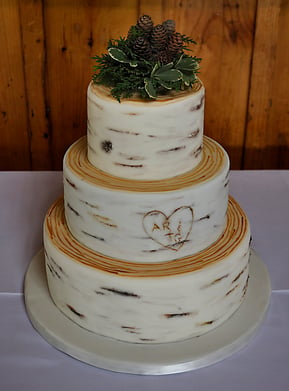 leaning towards simplistic colors, like champagne, and are using rustic cake techniques such as swirls and lines.Couples are incorporating burlap into their designs so she has been doing edible burlap.

Many couples are choosing to do a small cake for themselves and offering cupcakes for their guests. This way they can incorporate different flavors to accommodate every palette.

Dorene is also seeing a huge spike in groom's cakes. Once traditionally a southern tradition is now making it's way up to Maine. Many grooms are serving their special cakes at the rehearsal dinner.

Baker's Tip: When choosing your wedding cake colors, always look at the colors in natural day light. Vendor lighting can completely alter the color of your cake. If you choose vibrant colors be prepared for variations.
2. What is the most popular cake flavors this year?

When it comes to wedding cake flavors the sky is the limit! At Dorene's Creative Cakes she has seen it all from strawberry daiquiri to Pina Colada. This year she is noticing couples are playing it safe with traditional flavors such as Vanilla bean. Another common cake flavor in Maine is lemon with blueberry filling. Yum!

Couples are also choosing to add sugar flowers instead of real flowers. This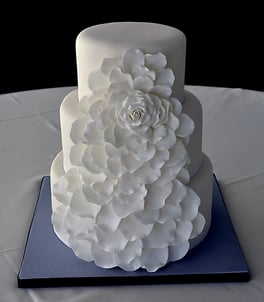 not only costs less but they are also edible and taste delicious! Totally edible cakes are trending right now as well. People are looking for cascading edible sugar flowers or cluster of edible flowers. Couples are matching their wedding cake colors to their bouquets or their bridesmaids dresses.

Baker's Tip: If you choose to use real flowers on your cake, be very careful that the florist isn't using pesticides. These nasty chemicals can be dangerous and should be no where near your food! Always ask your florist to provide organic flowers.

3. What is the most interesting cake you have ever made?


Designing wedding cakes is an art and Dorene has had some unique requests since she has been in business. There is no task she isn't willing to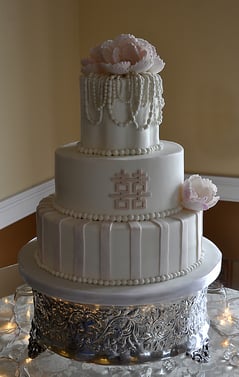 take on and really appreciates the creative avenue that cake decorating has given her. One of her most intricate designs was a mountain with two climbers headed to the summit. She has also been asked to incorporate special meanings into her cakes. Each cake is a unique representation of the couple.

Baker's Tip: When designing your wedding cake don't be afraid to make it your own! Be creative and seek out the advice of your wedding cake professional. It is amazing what can be done with cakes in 2015 so have fun with it!

5. What separates you from your competition? What makes your cakes special?

Dorene of Dorene's Creative Cakes has taken classes all over the world and is always perfecting her baking and decorating skills. She has learned from some of the most talented and skilled cake artists in the world. As we speak she is enrolled in a class regarding sugar flowers!

Another differentiator is her uncanny ability to create unique cakes for each and every couple. She takes the time to get to the know the couple and listens to their hopes and desires for their special wedding cake. With this information she builds a cake that suites their wishes through flavor and design. She works off of mostly referral based business and is a trusted adviser in the world of cakes!

She encourages her local couples to stop by her professional grade kitchen and have a tasting. They use this time to discuss what they want and how to accommodate their wishes into their budget. She promises to design a beautiful cake for any budget! Also cakes are delivered by her on the wedding day so everything runs smoothly and timely.

Baker's Tip: Be prepared with ideas and photos but also incorporate your own ideas into the cake. This will make your wedding cake personal to you and serve as a lasting memory for time to come!
6. What do you love about doing wedding cakes?

A wedding cake is such a big part of the wedding day! Everyone wants to see the wedding cake. People will remember a delicious wedding cake for years to come and it often times it becomes one of the most memorable aspects of your day. The wedding cake is part of the wedding decor. The cutting of the cake is a main event during the reception, and is a symbol that represents the newlyweds! The cake even shows back up a year later on your first anniversary!
To be a part of something so special and so important for a couple is a wonderful experience. Creating something beautiful and unique that brings joy to others is really the best job in the world!