I had the profound pleasure of speaking to Renee Bouchard, assistant store manager at Madeleine's Daughter, a luxury bridal salon in Portsmouth, NH. The stylists at Madeleine's have been helping brides find the dresses of their dreams for over 40 years. Their dedication to creating quality experiences for each bride has made them one of the most trusted salons in the area. Renee took the time to talk me through the Madeleine's Bridal philosophy as well as some awesome advice that is key for any bride looking for their gown or their bridesmaids dresses.

1. What are some of the biggest trends you are seeing right now in the bridal gown industry?
"Right now, the hottest trend is illusion. Illusion necklines, illusion backs, illusion sleeves. The designers are placing lace and sheer fabric together in really beautiful and interesting ways. Sometimes the lace looks almost tattooed onto the body. It's really incredible."
2. How was Madeleine's Daughter conceived and why?
"Madeleine's Daughter opened its doors in 1975 by Janice Wood. We were downtown in the Vaughan Mall at that time. We celebrated 40 years in business last year and we're excited for the next 40. Madeleine's Daughter was conceived to do more than help the bride find her wedding gown. Here at Madeleine's, it has always been about creating an experience for the bride and her family. We believe that shopping for your dress should be memorable. It's so much more than just a decision you make when you're planning a wedding. Madeleine's was the first in the region to introduce the idea of a "closed-concept" shopping experience, meaning the dresses aren't out on the sales floor for everyone to browse through. Instead, the dresses are in our private bridal closet and when a bride shops here, she's paired with a stylist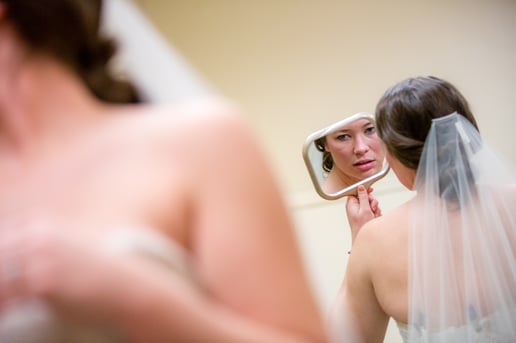 who selects dresses from the closet for her to try on. We take everything into consideration when pulling dresses- her budget, her venue, the time of year, and of course her likes and dislikes. We even ask to view her Pinterest board for wedding and gown inspiration. After 40 years in business, we've really figured out how it's done and we love seeing our happy brides when they have their "Madeleine's Daughter Moment.""
3. What sets Madeleine's apart from other bridal salons?
"I think I went into this in the previous answer, but I'll elaborate further and say that our expert, seasoned staff of bridal stylists have a true passion for what they do and many have been working here for years. They offer the highest level of customer service from the moment you book your appointment, until you pick up your dress and even beyond! Many of our brides seek the advice of their bridal stylist beyond the wedding attire. It goes without saying that we can help with the bridal gown, bridesmaid dresses, mom's dresses, flower girls, accessories, etc., but we are also able to offer advice beyond that, such as the best wedding vendors in the area. Our stylists have such close relationships with their brides that they often try to help connect them with great photographers, make-up artists, florists, etc. We've seen so many weddings over the years, we can often recommend not just a great vendor, but one we think will be a good match for a specific bride or venue. One other detail that sets us apart is actually a brand new service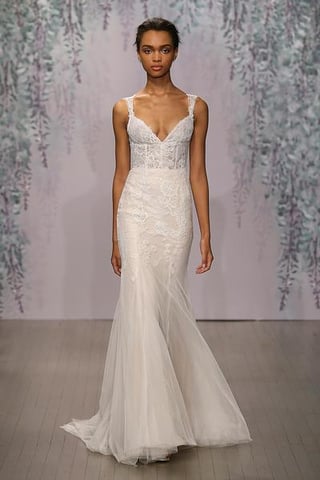 we just implemented. It's called "The Salon is Yours" and it's a completely private appointment. It's an extended length (3 hours versus the standard 90 minutes), and we serve champagne and snacks for the bride and her guests. The store is closed to everyone except the bride and her group. There is a fee for this service, and you can add all kinds of amazing upgrades like arriving in a limo, having professional hair & make-up beforehand, a photographer there to document, etc. It's a really incredible service and we're proud to be the only shop around that does it!"
4. What advice do you have for brides coming into shop for their wedding dress? What about brides shopping for their bridesmaids dresses?
a. "When shopping for your wedding dress at Madeleine's Daughter, the best advice is to be open. I can't tell you how many brides leave here saying, "I never thought I'd buy a dress like this!" Brides who come in thinking they love lace and full skirts often end up in crepe sheaths
and vice versa. Regardless of what you think you like, when you put on your dream dress, you'll know it- you'll have that feeling. Maybe you'll cry, maybe you won't, but you'll know it's your dress. We call it a "Madeleine's Daughter Moment "and we see it every day!"
b. "When shopping for your bridesmaid dresses, again, be open to the possibilities. The biggest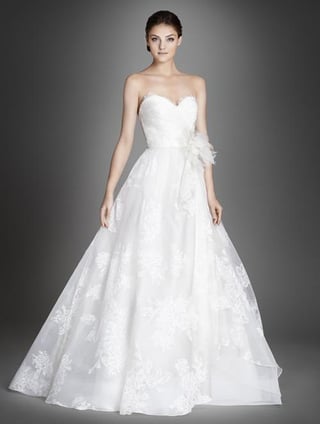 problem often comes when a bride is insistent on a specific color. It can really limit which
designers girls try on and they might miss out on a fabulous dress because it doesn't come in the exact shade of Kelly green or peony pink that she's looking for. The opposite can also be true- a bride who doesn't have a strong sense of what she wants the bridal party to look like can end up with too many options. Narrow down a color palette and length to start. Decide if you want all the same dress or each girl in her own style. That's a good place to start because you have parameters to work within."