Flowers at a wedding may seem like a simple no brainer; they go on the tables and into the hands of the bridal party – I mean, what else will the bride throw at the end of the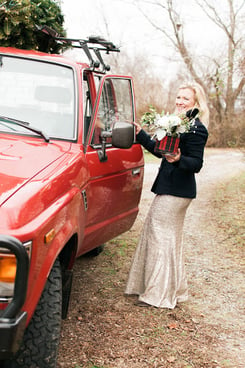 night? But in reality, decorating a venue with flowers takes strategy and creative vision because as Rory Weinberg, owner of Poppies Flower Design reminds us; "Flowers can totally transform a space."

I had the absolute pleasure of talking to Rory and learning more about her business Poppies, out of West Newbury, MA. She is a New England native from Hancock, New Hampshire and for her; flower design is a passion.
What are some of the biggest trends you are seeing right now in the flower design business?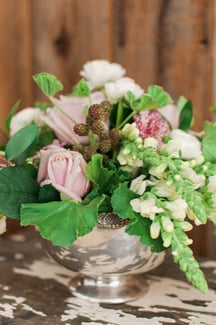 Rory explains that nowadays, brides and grooms are looking to have their wedding be a unique experience for their guests. They want to invite everyone into their love story by making every detail reflect their journey together as a couple. This has led to an abundance of requests to add personal touches to each flower arrangement, like small trinkets or details that symbolize special experiences they've shared as a couple, so guests leave with something to think about long after they've left. In regards to flower aesthetics, one of the most notable trends in flower design is a major shift towards more natural looking arrangements. Clients want to make the flower arrangements more organic by selecting asymmetrical arrangements that appear wild and fresh. For bouquets, there has been an increased demand for wide bouquets vs. round. Long trailing ribbons, often multi colored continue to be popular and many customers are now looking to place flowers in more unique places so they're more than just centerpieces.
How did you get into flower design – was it always a passion – what do you love?
Rory credits the start of her passion to her friends and family loving the outdoors and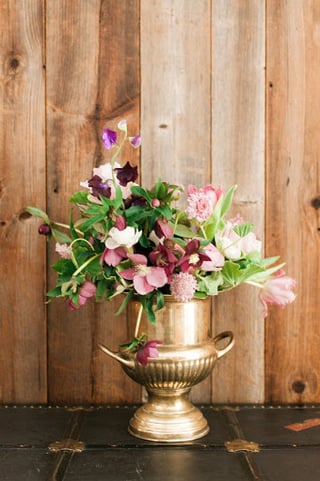 gardening, giving her the opportunity from a young age to be surrounded by nature. Furthermore, Rory grew up in Hancock, NH, which she describes as a very "artsy community" and the constant interaction with friends who are artists and painters allowed her to foster her own creativity even further. Rory never considered flower design as a career, so she went the traditional route of entering college and eventually the business sector. Upon the quick realization that it was not for her, she began Poppies out of her home. She also began working on weekends at local flower shops to learn from professionals and even went as far to take design courses in New York. Rory is proud to be self-taught because her hands on experience allowed her to figure out what worked aesthetically on her own, while giving her the freedom to cultivate her own signature style.
What sets you apart from other flower design shops?
There are a multitude of things that makes Poppies Flower Design so special, one of which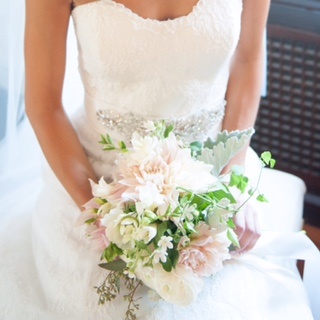 is Rory's commitment to creating as much value as possible for every dollar spent on flowers. She understands that flowers can be expensive and that sometimes, brides and grooms have a hard time spending money on something with an expiration date. She makes it her goal to help each client realize how flowers make a wedding even more special and unique, and because she treats each event or wedding as if it's her own, Rory is always willing to go above and beyond. Another awesome thing about Poppies and Rory is her adaptability. She is capable of not only taking direction and making every client's specific vision a reality, but she also is willing to help guide clients who may not have such a clear idea. Rory is always trying new things and she loves to put flowers in unexpected places vessels, like in teacups or champagne buckets, to make each event even more special. She has a genuine passion for making every event look and feel as beautiful as her clients imagine and she will do whatever it takes in order to make it a success.
Do you have any tips or tricks for the Do-It-Yourself-er's out there?
1. Try to create balance when arranging a bouquet and whatever you do, don't try and force a flower. Rory explains that sometimes it's easy to get fixated on getting a specific flower into an arrangement, even if it doesn't fit or fall the right way. She said it's important to know that when a flower doesn't fit, it's probably not right.
2. Take care of your flowers. Prep them well and hydrate them with fresh water. Be sure to always cut the stem at an angle. Rory says that flower food can sometimes also be useful.
3. Don't limit yourself! Use unexpected ingredients! One of Rory's favorite things to add to arrangements is fruit, particularly a branch of barely ripe blueberries. (A testament to Maine! I knew I liked this lady.) She also loves to source local flowers as much as possible so she suggests trying to use seasonal flowers or a branch with budding blooms, just to change things up.
4. Forget the rules! If you think something looks good, then go with it. It's a reflection of your style and your taste.
Photography Credit: Truck Photo Of Rory, Flowers in Champagne Bucket & Flower Arrangement in Silver Bowl Shot by Meg Manion Photography. Bridal Boquet Shot By KM Smith Photography.