Ellie traveled from Indiana to Long Island, NY to Norway, Maine to become the newest member of Team Granite Ridge. Here is her story:
Ellie, tell me a little bit about yourself:
Ellie originally hails from Indiana where she developed her Midwest sensibilities and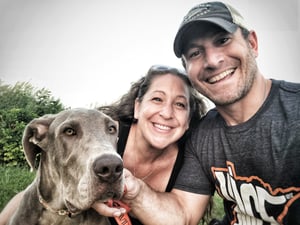 disposition. Although told by her parents she is a pure bread Great Dane, Ellie believes that if she went to Ancestry.com, she would see some Weimaraner in the family bloodline. Ellie was enchanted by the stories of the North Fork of Long Island, and headed East to Aquebogue, NY. While meeting up with his sister, Adriana, at their Greenport NY family home, Granite Ridge's own Co-Founder & General Manager, Gabe DiSaverio, adopted Ellie in a spur of the moment move. Later that day, the rest of the Granite Ridge Family was notified...via social media. Some initial frustration with Gabe soon gave way to an eagerly anticipated warm welcome. Ellie was greeted with kisses and hugs and everyone immediately understood that the universe had been speaking. Ellie was the newest member of Team Granite Ridge even before working her first wedding.
Word on the street is you have some big shoes to fill?
Ellie gave immediate credit and kudos to current Granite Ridge Site Supervisor, Princess Laya, who resides in the Little House on the top of the mountain. Ellie explains, "Look, I'm not here to step on toes or nip at snouts. Princess Laya has been here for 11 years and was at the first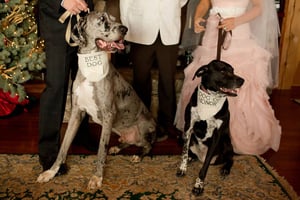 ever Granite Ridge Wedding in August of 2014. I know I have a lot to learn from her; I plan to watch, help, and work my tail off." The first encounter between the two ladies was a great success. Ellie also wanted to pay homage to the Late Great Luke Skywalker. Ellie took a somber tone as she said, "I know how devastated the Granite Ridge Team was when Luke went to Doggie Heaven last July. Look, we're talking about a National Celebrity who had been featured on Animal Planet, and has a Youtube video with over 2.4 Million views. I'm just going to be myself and snuggle as many people as possible."
What do you love about your new home and job?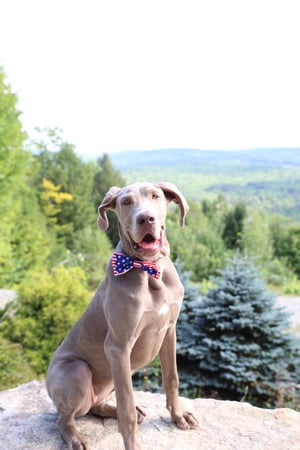 "EVERYTHING!" Ellie barked. "I've got a private 200 Acre Mountain where I work, and for someone who's basically a small pony, that's perfect. My parents live 10 minutes away on Lake Pennesseewassee, so I can jump in for a dip if I overheat at work." Ellie referenced how happy everyone was at her first wedding on 9/1/18 and that this is a place where she can help people just keep smiling. She also mentioned some things she loved about the Barn; "although all of my work is done outside, it's incredible to look inside this 3,500 square foot timber frame masterpiece. It's almost unheard of to have a Barn venue that can seat up to 233 people comfortably, have beautiful indoor bathrooms (so no need for port-a-potties) as well as a brand new HVAC System for both Heating and AC temperature control." Ellie also referenced the breathtaking views from both the Estate and Barn, as well as how great it's going to be to see her guests for 4 days and 3 nights, versus just a "churn and burn day-of wedding venue."
Who's your favorite member of Team Granite Ridge?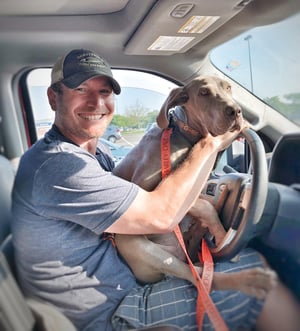 Ellie blushed at having to pick a favorite but said, "without a doubt it's my Papa, Gabe DiSaverio. Not only did he rescue me from a tough situation, he's so handsome and nice. He went to Boston College and was able to convince Jill Fratianne to marry him, so I know he's very, very smart. I heard he was a transcendent beer salesman, but I'm glad he's the General Manager here running our family business so I can see him all the time." Ellie is excited to watch Gabe's favorite movie, Jaws, with him, and has already requested August 23 - August 29 of 2019 for vacation so they can watch Shark Week together.
Who are your favorite vendors to work with?
Ellie acknowledges she has only worked one Granite Ridge wedding so far, but already had some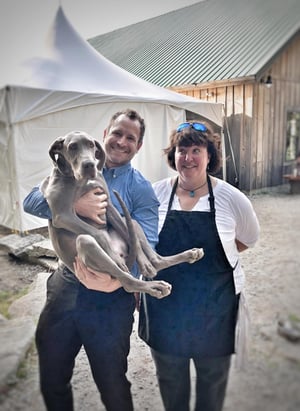 great first impressions. "Heather and the crew from The Good Food Store in Bethel are wonderful to work with. I tried their salmon, chicken, steak, grilled veggies, and Mac & Cheese yesterday, and they were all AMAZING." Although she doesn't drink, Ellie recommends Thomasine and TNT Event Services for the Bar, "they are very professional, responsible, and have a wonderful staff that took great care of every guest." Ellie raved about Patricia & Sarah from Kivalo Photography for her private photo shoot. "They were so nice to take my pictures, and the First Look photos were amazing!" Ellie also spoke highly of Wedding Planner Kristina Slocum from the Purple Orchid. "Wow, that lady hustles. She was moving and grooving, picking things up and putting things down, and making sure everything went great. She also pet me really nicely." It's been a great first impression with Ellie and we're so excited to have her on Team Granite Ridge!!
Ellie is on Instagram as @GraniteRidgeGreatDane, become a follower!