There are a ton of tips and tricks you can use to "hack" your wedding day. I mean, why make things more difficult if you don't have to? Shout out to Buzzfeed and Bridal Guide for some of the amazing ideas for this list – it's seriously full of some awesome and helpful suggestions.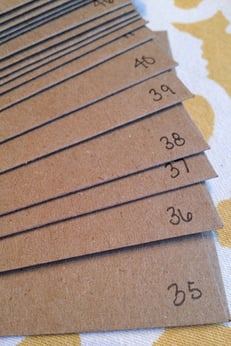 Number your RSVP cards so each one corresponds to a guest.
By numbering the cards, you can keep better track of what guests are actually coming, and those who end up being no-shows the day of.
Make a new email account specifically for wedding planning.
It'll keep everything organized and separate – you don't want your vendor updates going to your work email right?! Plus, it's stressful to have all of your work, personal and wedding emails going to the same place – it's totally overwhelming! This will help you compartmentalize!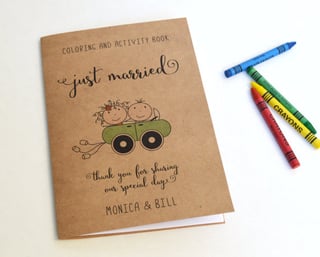 Toys For Kids
If you've made the brave choice of having children at your wedding, then set aside some little things for them. Consider having little coloring books, crayons, bubbles or yoyo's at their table and they're sure to keep them busy
Check out the Recycle Your Wedding to buy secondhand wedding items
This is such a useful tool, which you access through Ruffled.com. Just because something has been used doesn't mean it's any less beautiful or perfect for you! It's great for any bride, but especially those looking to stick to a budget.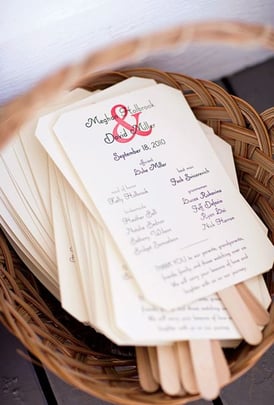 Make or order programs that double as fans.
If you're having a summer, outdoor wedding – it'll probably be hot! Consider printing programs for your guests and glue them to paint sticks so they can turn into little fans! Your guests will thank you for being so thoughtful.
Make an alphabetized Google doc with your guests' names and addresses after you get engaged.
This is one of those things that you'll thank yourself for later. It'll help you start your preliminary guest list, and it'll jumpstart the grueling process of amassing all your friends and family's information.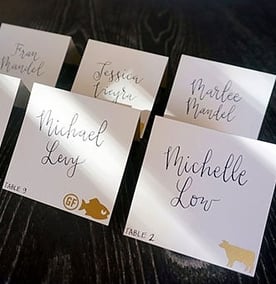 Make it easy for your caterer's to see your guest's meal order
This one is very clever - by ordering place cards with small images that represent your guests order, your servers will easily be able to tell which meal goes where. It's sure to save a ton of stress on your big day.
Invites: Some Kind of Lovely Ride, Coloring Books: ClaudiaCurtiDesigns, Programs: StyleCaster, Place Cards: LAlitaDoodles