Thanks to the wonderful worldwide web, trying to figure out the timing of your wedding day has been simplified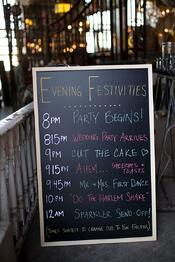 and lined out for you. You have your option of choosing from many different templates, but, we have decided to dive in with a few more details to take into consideration when planning your Maine barn wedding. And, you can include the timeline creatively into your wedding, from ceremony cards to hand-painted signs, so that your guests and vendors all have reminders and information about the storyline of your day.
Day of the wedding-- How much time does it take to do EVERYTHING?!
The first thing you must figure out is what time you would like your ceremony to start. Consider the time of year and the region of the country you are in if you want to have an afternoon, late afternoon, early evening or evening ceremony. A common time for an early evening ceremony is 4pm. If you want your wedding to start before or after that time, adjust the timeline accordingly. Also keep in mind how much time it will take you to travel if your ceremony site and reception site are at different locations. At Granite Ridge Estate & Barn, we have the ceremony and reception sites on the same property.
Morning
8:00am- Wake up!
Good morning! All bridal party members and participants in the wedding itself, should have a little cheat sheet for how the timeline will go for the day. Yes, the rehearsal usually helps that, but it is good to have as a reminder. It will be a very busy day for everyone; this will help keep people on time. Hand out this pocket timeline during your rehearsal dinners, and have a few extras available for the day of.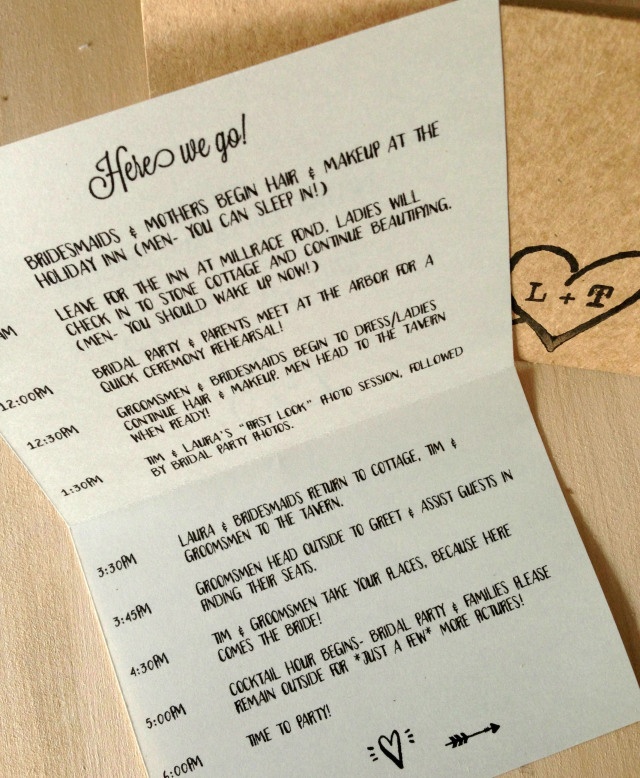 8:30am- Fresh juice, water and light breakfast
9:00am- Hair & Makeup Artist Arrival
A tip from the pros is to have your bridesmaids get their hair and mkeup done before the bride, so that her makeup is the freshest. Have your photographer scheduled to begin towards the end of your hair and makeup session to get the finishing touch shots.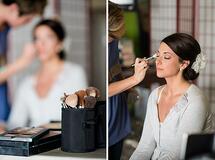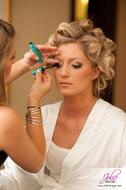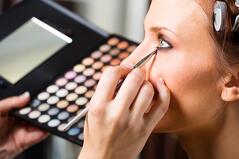 Photos courtesy of SomethingTurquoise, Makeup by Jaycie and Majestic Salon and Spa.
9:30am- Check Ceremony and Reception Sites
Double, triple, quadruple check that everything you need is there. If you need to pick up anything, florals, cake, desserts, etc., delegate for another family member or friend to do.

Gentlemen, because it generally takes ladies a bit longer to get ready than you, you may find you have some extra time on your hands in the morning. Go for a group bikeride, golf, hike or kayak around the closest body of water. This would also be a good time to make sure everyone has what they need for their suits... *ahem* dress socks....

Afternoon
At this point in the day, remember to breathe (that is super important!), drink some water to stay hydrated and eat some fresh veggies and fruit.

12:00pm - 1:00pm
Gentlemen, time to get fancy!
Yep, get dressed. The photographer will be in to take photos of you and your groomsmen while you're getting ready.
Ladies, your hair and makeup should be just about finishing up. Bride and bridesmaid photos, dad's first sight of the bride pictures, etc. Make sure your makeup artist sticks arouond just in case of tears. Touchups may be needed.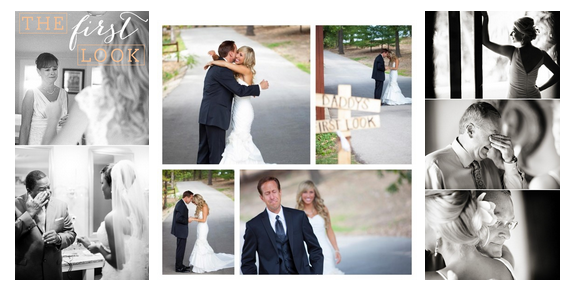 Photos courtesy of The Huffington Post, Beyond Blessed and Something Turquoise
1:30pm- Deep breaths, keep hydrating and more photos!
2:00pm- Cake/dessert is delivered
Unless you are picking up the wedding cake or desserts yourself, this about when the baker or cake maker should be delivering your cake and/or desserts. You may save some money in not paying for a delivery charge, but believe me, when it comes to the cake or desserts you want to make sure they are what you envisioned. The professional will be able to make any last minutes touch-ups if something happened in transport or setup. And even better, they know exactly how to get your pastries to you in the safest way possible. If you are doing a dessert table, they may be able to set the table accoriding to what will look best with your variety of desserts and platters to use.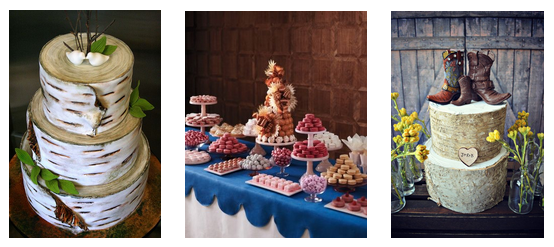 2:30pm- First Look Photos
Give yourselves an hour to get First Look Photos. These break the traditional rule of not seeing your partner before they walk down the aisle. The pictures of the reactions are just priceless!



3:00pm- Guests begin arriving.
Some guests may come an hour before your ceremony starts, so anticipate their arrival. You can provide a cermony card to give them something to look at while they wait. You can include fun facts about you as a couple, add photos or even have games.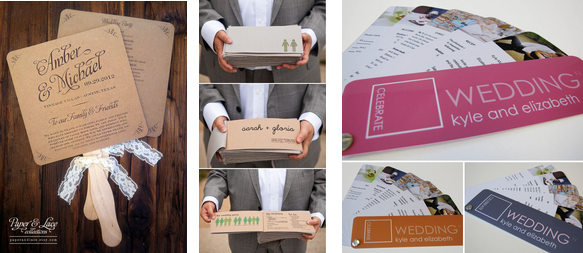 Photos courtest of PaperandLaceAustin and The Bridal Detective.
3:30pm- Bridal party begins lineup/ procession to ceremony site
Last moments before the I Do's! Take a sip of water, breath deep and enjoy the next moments.
4:00pm - 4:30pm- Ceremony

Yes! This is actually happening! Don't trip. Just kidding... but seriously.

4:30pm - 6:00pm- Bridal party leaves for photo session
Guests make their way to the cocktail reception while the bridal party escapes for an hour or so to take pictures.

Photos courtesy of Tricial Jamiol Photography and Bebe Photography.
6:00pm- Reception Begins!
Bridal party is announced. The newlyweds dance their First Dance upon being announced at the reception. Dinner should follow this as people are probably ready for more tasty food!
7:15pm- Cake Cutting
7:30pm - 8:00pm- Toasts & Dances
8:00pm- Garter and Bouquet Toss
8:15pm - 11:00pm- Dancing and Happy Shenanigans!
Put on your dancing shoes! Time to rip up the dancefloor and have a blast celebrating the past memories made, the current memories being made, and the memories to be made in the future. Provide flipflops for your guests who may not have worn the best footwear for dancing. And, have a backup pair for your bridal party to wear if you need to change your shoes.
Some guests will want to leave shortly after the dancing begins. Whether they may be tired or have young kids, expect people to leave at different times. Be sure you have shuttles or parking attendants to assist the guests to their cars or shuttle pick-up site. Have a board listing times of the shuttle departures so your guests know if they can dance for a few more minutes before the next shuttle leaves.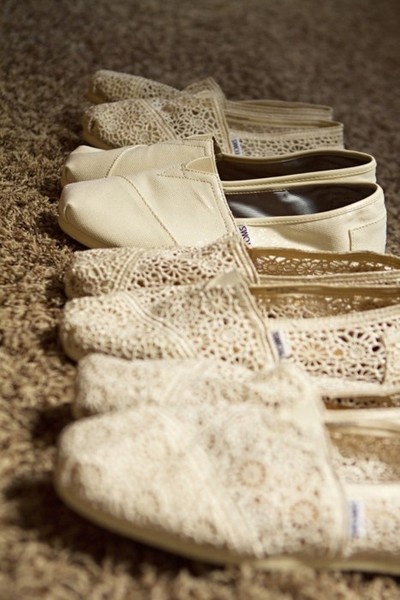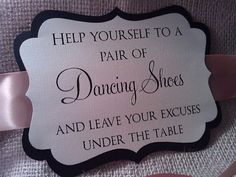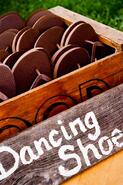 Photo courtesy of Toms Shoes, Pinterest and PaperBlog.
11:00pm - Bridal Sendoff, Bon Voyage!
And, now, your happily ever after will begin. Some couples will leave right from the wedding, to their honeymoon. If you are having a destination wedding, keep the celebrations going!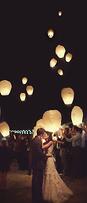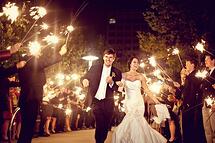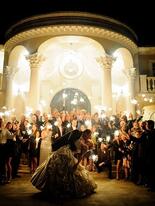 Photos courtesy of Pinterest, Lea-Ann Belter and Bridal Guide