We were so excited to discover that one of our own lovely brides had started her own small sign business. Sarah, who married her wonderful fiancé, Nick this past summer, was inspired to start "With Love, Sarah Beth," after she learned to create beautiful boards for her own wedding. It's no small task to start your own business, and we could not be more excited to share in her entrepreneurial spirit.
Tell me a little bit about With Love, Sarah Beth
Sarah builds, designs, and hand paints beautiful sandwich boards, signs, seating charts and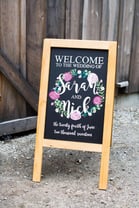 more. "It's something I do with my dad, he builds all the structures for my projects. He cuts all the wood, and then I hand-paint them myself! I talk to the brides and ask them what their theme is, and I make sure to look at their invitations to get an idea for their colors and florals; then I can incorporate some of those things into my design!"
What inspired you to start this business?
"Well I've always had sort of swirly, girly handwriting. When I was really getting into planning decorations for my own wedding, I started trying to make things and mimic things I saw online,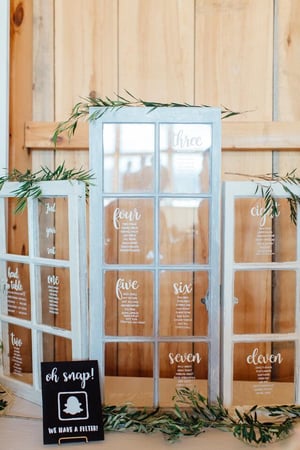 myself. It started when I began making things for our wedding, and I was posting tons of pictures of what I was working on and a lot of friends and family members kept saying how I should see if I could make them for other people, and see if it goes anywhere." Sarah began posting pictures of her work in a Facebook group she was a part of, for brides living in Massachusetts and Rhode Island, and another group for brides in Maine. People very quickly began responding to her, asking for their own signs! Eventually, she realized she should give her business a name, make a Facebook page, and just make it more official! She also was sure to credit her husband, Nick – who is her absolute biggest fan. "He almost gets more excited than I do, and he's constantly re-posting my products on Facebook to make sure everyone sees them!"
What is your vision for the future of this business?
Sarah explained that on a smaller scale, she'd love to start by making the move from Facebook to Etsy because she knows it will help her expand and be exposed to a larger audience. "Big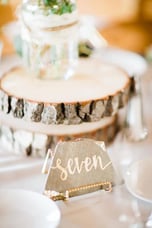 picture, I would love to make this more of a full-time job for myself, because I really love it."
We were so excited to talk to Sarah about this endeavor of hers, and it's clear that she has all the talent and creative vision to make it a success. To check it out for yourself, look for With Love, Sarah Beth on Facebook and Instagram.