Gay Marriage became legal in Maine on December 29th, 2012. Maine quickly became a wedding destination for many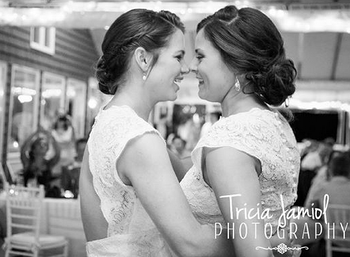 gay couples around the country. We have had a number of inquiries from gay couples and have our very first lesbian couple getting married at Granite Ridge Estae & Barn this upcoming summer. After attending Grow, a summit for wedding professionals, we learned a number of interesting facts and suggestions from a LGBT wedding planner. One question that come up was how does the couple walk down the aisle? Gay weddings are continuting to break trends and start new traditions. Unfortunately not all parents of gay couples are in support of their children getting married and my not be willing to walk them down the aisle. This adds another layer of complexity that can be painful for many couples. Howerver, that doesn't have to ruin the day. Here are 3 ways to start a new tradition of walking down the aisle for your Maine gay wedding:
1. Have two Isles
Why have one partner wait? Why not walk in from separate entrances and meet each other at the aisle. At Granite Ridge, we have two entrances to our wooded wedding site. Because the wedding is outdoors, you don't have to worry about finding a church that will accommodate your nuptials. You both can walk down to a favorite non traditional wedding song from either sides of the site. You can be escorted by a family member, best friend, or walk down solo.
2. Walk down together
This one is pretty simple. To get to where you are as a couple, you have had to overcome tremendous adversity. Why not do it together? This is a great option for couples that have parents that are either deceased or unwilling to be supportive.
3. Have one partner wait at the aisle
You may find that you don't want to completely give up on tradition and want to either see your partner walking down the aisle to meet you or maybe you want to walk down the aisle yourself. This is a great option if you do have supportive parents and want your mom or dad part of your special day.
What ever way you choose to plan and celebrate your gay wedding, know that this is a day that many traditions can and will be broken. Be proud of it and know that no matter how you walk down the isle, the sentiment of the day, your love for each other, and the gathering of people who love you is the most important part.
Photography provided by : Tricia Jamiol Photography