Hiring the right catering company could arguably be as important as finding the right wedding venue. They need to be trusted to treat your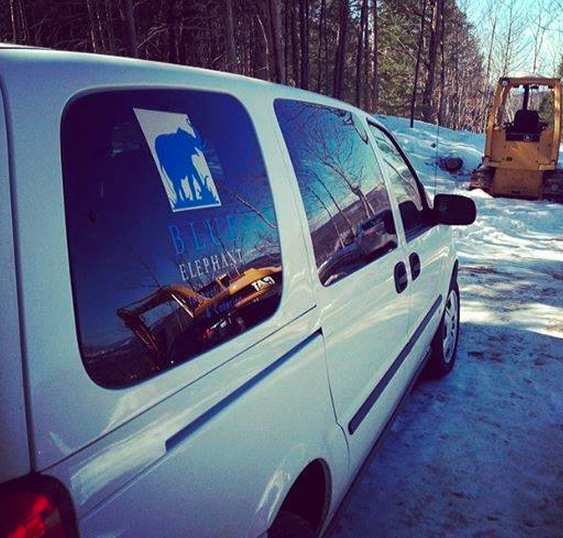 venue properly as if it were their own. Brides and grooms often over look that they could be responsible for damage that would take away a security deposit. As a co-owner of Granite Ridge Estate & Barn, a Maine barn wedding and event venue in Norway, Maine, we know that even though we aren't providing the food for our events, the food and service sets the tone of how we will be remembered. The catering company ultimately effects the over all experience of our venue. From our first interactions with Reuben and Fausto, we knew we had found a winning team. In fact, their reputation for excellence was on our radar before we met. We could not be more excited to have them join the Granite Ridge Team to provide the most unforgettable wedding and event experience. They understand how to run a business from top to bottom. From hiring the right employees to being exemplary citizens of the community, there hasn't been a detail of their business that has gone over looked. Recently, they catered our Sneak Peak Event where we got to experience their expertise, hard work, and professionalism first hand. Here are 5 reasons to hire Blue Elephant Catering for your next event.
1. You can't find a bad review.

From wedding wire, to Facebook, Blue Elephant Catering fans are raving. Here are a few of my favorites:
"I thought the wedding was a huge success and you were a MAJOR part of that!! We really can't thank you enough. You and your crew went above and beyond the role of caterer by helping with the ceremony and even going to retrieve those poor old ladies in [my husband's family] that got lost - his parents were seriously impressed! Furthermore, the food was delicious!"
* * * * * * *
"It has been week since "[our daughter's] wedding and the guests are still talking about the wonderfully catered event. We, along with many of the guests, are marveling at the excellent service, delicious food, and the exquisite presentation that you provided. Many commented that they were amazed that the food was so plentiful. You deserve much of the credit for the success of the event. We thank you and express to you our complete satisfaction with the reception."
* * * * * * *
"What can we say? Thank you for making May 8th the happiest day in our life. We had the most wonderful time celebrating . . . We were relaxed, worry-free and...impressed. We knew it would be a great event, but it was an incredible event in our eyes. We received so many calls and notes from friends and family and everyone said it was the best they had ever been to. . . . Thank you for all all of your hard work and attention to detail. (Even when we stressed over the tent, you were able to pull one out of thin air. Wow!)"
2. The food will be exactly what you want.
Want a traditional Chinese dinner? Want mac and cheese? Want lobster rolls? Want a fancy 5 course meal? Want a high class buffet? You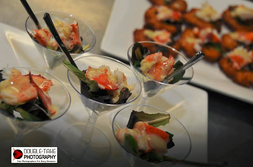 name it, you can get it. It's incredibly important to work with a caterer that isn't a "one trick pony" serving the same salad that you have seen at the last ten events you have been to. These guys will make your event something any foodie would be proud of.
3. You won't even know they are there.
The Blue Elephant staff is incredible. I was blown away at our sneak peek event how quickly they set up, how each and every person pitched in with set up ( even helping Laurie Andrews of Laure Andrew's Design) get the space ready for show. When our event began, food was steady and the wait staff was so good you didn't even realize they were there. So professional. After our event they were cleaned up and out before I could even blink an eye. Amazing.
4. Need help with your table setting? No problem.
One of our brides was blown away at how much less DIY they were going to need to do for their wedding because of Blue Elephant's expertise. They have a whole warehouse of accessories to help make your wedding or event special and unique. They pay attention to every detail of the meal, including presentation.
5. Your event will NOT be their first rodeo.
The dynamic duo started the Blue Elephant Catering Company 7 years ago in Maine. Prior to that, Fausto had been catering in Philadelphia for 19 years. His clients in Philly included Brooks & Dunn, Martina McBride, Tim McGraw, Maurice Sendack, Elizabeth Taylor, Ricardo Moody, and Lola Falana. Reuben worked at a wedding facility in the Philly 'burbs, which was how he got into the wedding and event business. Also to be noted, Blue Elephant Events and Catering was one of four finalists for a 2014 ACE Award - "The annual Catersource ACE Award recognizes companies that have shown noteworthy achievement in the catering industry through culinary, business, community and professional development." They were the only company in Maine to ever be nominated for this award!
Needless to say, you are in good hands with Reuben and Fausto at Blue Elephant Innovative Events & Catering. Here are some of my favorite pictures of their food and past events: