One of the first questions I went to Google with when I was planning my Maine themed, rustic wedding at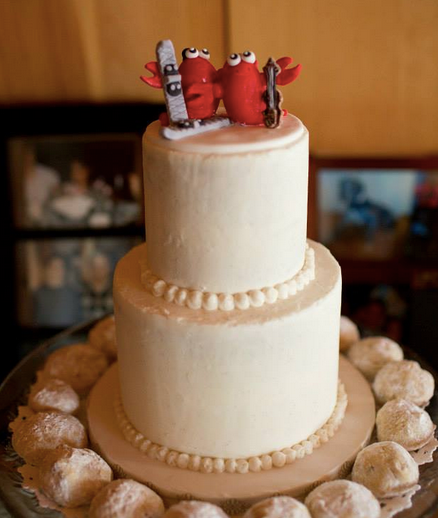 Granite Ridge was who is an awesome vegan cake baker in Maine? My husband and I wanted an entirely plant based wedding that was not only healthy, but delicious. I searched the internet looking for a bakery that specialized in vegan baking. I wanted a cake that was unique, delicious, and most importantly dairy and egg free. I wanted a cake that everyone would love, even guests that were not following our diet. The referral came from The Taste Of Eden Vegan Cafe in Norway, Maine to check out Ahimsa Custom Cakes in Auburn, Maine. I immediately went to the website and knew I had found exactly what I was looking for. I reached out to Kristi and starting obsessing over her amazing facebook cake and cupcake pictures. After having a great phone consultation I hired Kristi to make one of the most important elements of my wedding; my beautiful and delicious dark chocolate, vanilla frosted, two tier, custom lobster sculpted vegan wedding cake, as well as a dozen Jaws-themed french toast flavored cupcakes for the groom. Here are 5 reasons to have Kristi make your wedding, special occasion, or holiday vegan cake or cupcake.
1. Ahimsa Custom Cakes and special flavors are delicious, even to a non-vegans.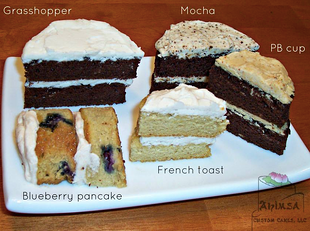 I ordered a dark chocolate cake with her famous vanilla bean frosting as well as french toast cupcakes and they were spectacular. Her full list of flavors is incredible. There are flavors that I never thought I could have again after switching to a plant based diet which is one of the most exciting things about finding a master vegan baker. Her classic flavors are vanilla bean, dark chocolate, mocha, lemon, and orange dreamsicle. She then starts to get creative with her signature combinations that include caramels, coconut, chocolate, lemon variations, and maple syrup to make flavors like French Toast, Grasshopper, Healthier Hostess, the Turtle, Sunrise, the Devil Made Me Do It, Samoa, PB & J, PB cup, Tuxedo, Caramel Apple, Cookie Dough, Cookies & Dream, Eclipse, Neapolitan, and Snowball. Having flavor choices this diverse for a vegan cake is just extraordinary.
2. She can make and sculpt anything you can come up with.
Watch Cake Boss or Ace of Cakes? Want an amazing sculpted custom cake? Ahimsa Custom Cakes can make it happen. Check out her facebook page for inspiration. I had asked Kristi to sculpt two edible lobsters at the top of my cake; one with a violin for me and skis for the groom. She totally rocked the lobsters and everyone loved them. The Jaws-themed cupcakes for the groom with blue icing and a simple fin were absolutely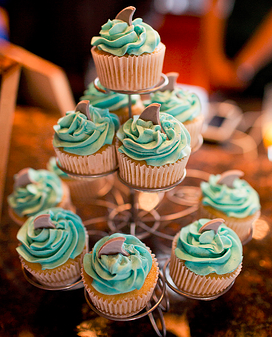 adorable. I love to follow all of her updates. Some of my favorites include her Halloween cupcakes, winter cupcakes, Alice and Wonderland cupcakes, a cake shaped like a real fish, rustic wedding cakes, and the most unique and beautiful birthday cakes for children.
3. Kristi can send out a tasting samples.
You can order a box of multiple flavors to try. The hardest part is going to be to choose which flavor works for you. I am on a personal mission to try them all.
4. Kristi can deliver on-site in Maine.
I briefly thought about picking up my wedding cake or having a friend pick it up but quickly came to my senses. For a small fee, Kristi delivered my cake and cupcakes for me the day of my wedding.
5. She makes everything from scratch.
One of the most impressive things I learned about Kristi is that she make her own vanilla extract and man is it delicious. Kristi hand sculpts, bakes, and creates with love. It comes through in every interaction and beautiful creation she makes.
Hire Ahimsa Custom Cakes for your next event, you won't regret it and your non-vegan guests will be in disbelief and how great everything tastes.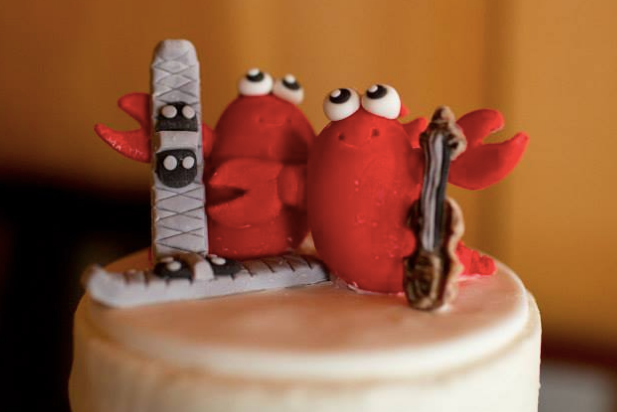 Picures provided by : Hailey Tash Photography