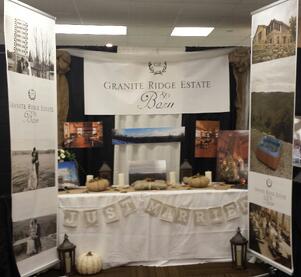 We just returned from the 24th annual Portland Maine Bridal Show at the Holiday in By The Bay presented by the Maine Wedding Association. The turn out was impressive. The recent Nor'ester wasn't keeping our Maine Brides from coming out to the show, we are in Maine after all. It was exciting to meet all of the newly engaged couples and we couldn't be happier to join the family of Maine wedding vendors. There were a few take aways that we discussed as we were packing up the booth.
1. Barn Weddings in Maine are the hot trend and here to stay for a while
From vendors to brides to grooms, everyone was talking about barns. They are the perfect venue for a rustic wedding and the trend isn't going away anytime soon and barns are booking fast. We couldn't be more excited for construction of our barn to start.
2. Brides are getting started early and already booking for venues over year in advance.
Start booking your wedding now because there is another couple that probably did it a year ago or more. If you are looking for a particular location whether it being mountain, ocean, barn, open field or golf course, many brides we spoke with were planning for weddings already for 2015.
3. September is a hot month for weddings - book it quickly
From all of the couples that visited our booth, September was by far the most popular month to book a wedding. If you are planning for a September wedding, know that you are running up against a lot of competition, especially for a Barn wedding.
4. The Maine Wedding Association knows how to put on a great show
Meeting Joan Montgomery and the whole team at the Maine Wedding Association was defiantly a highlight for us. The show was incredibly well organized and represented every type of vendor a bride or groom could ever need.
5. Maine is an incredible place to have a wedding
From mountain views, to the ocean, extraordinary cuisine, bakers, photographers, and event planners, Maine truly is a Wedding destination venue that can provide something for everyone. Strolling down the aisles of the show would make almost anyone want to get married. We are blessed to live in such a beautiful state that has so much to offer.