Picture this
. Gene Kelly's "I'm Singing in the Rain" song in the background. Fat plops of rain hitting the ground, the earthy smell of petrichor in all of its freshness. If you are getting married in Maine, then you may as well embrace the possibility that rain may make its grand arrival at some point before "I Do" does. At
Granite Ridge Estate & Barn
we would love to think it will never happen, however, you should plan accordingly and take advantage of the possibility of a wedding ceremony baptized by rain with these tips: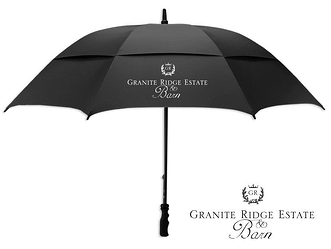 1. Have Umbrellas Ready
Rather than having mass chaos in the wake of water falling from the sky, provide your bridal party and guests with color coordinated umbrellas. Not only are you thinking of their comfort in the chance of a rain shower, but you are also providing your wedding photog with a striking setting for snapping shots.We have to trunks full of custom Granite Ridge umbrella's waiting for your guests, so need not worry if you don't bring your own!


2. Wellies, Hunters, or Bogs
Every girl likes to go shoe shopping, so why not tack rain boot shopping on your rustic Maine wedding to-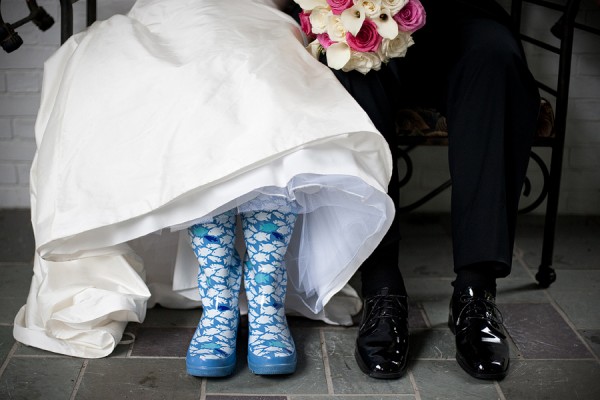 do list? Look for stylish brands, such as Wellie, Hunter or Bogs, for those in your wedding party. Consider this part of their 'thank you' gift for their support on your big day. Provide guests with access to an overflowing basket of inexpensive rain boots in a variety of sizes, or note on the wedding invitation 'rain boots required.'
3. Towel Time
Towels are a lifesaver in any wet conditions, especially a rain shower. Have attendants pass out baskets of color coordinated towels to guests as they enter the reception hall. Everyone will appreciate your thoughtfulness, and hopefully you can prevent any sniffles from passing through the crowd due to wet heads.
4. Hey, hay, hey!
A quick fix for an outdoor wedding in Maine is to utilize hay bales as part of the décor. Not only are you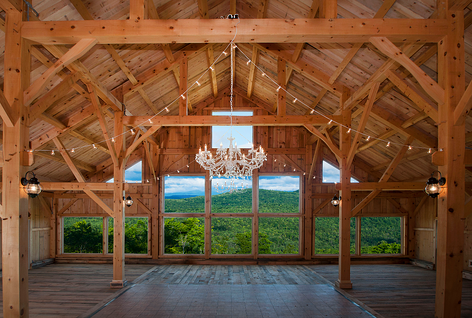 providing a rustic touch to your scene, but the hay bales will absorb standing water and rain drops to prevent mud puddles and small ponds from forming.
5. Get Married In the Barn
If the rains truly become a flash flood, then by all means bale out of the outdoor ceremony. After all, you want to make it to your first anniversary, not be washed away before the wedding nuptials are carried out. Opt for our
Maine barn wedding venue
, which makes not only a pristine backdrop for your event, but a safe and cozy hideaway for an alternative wedding ceremony option.
Rain or shine, your day will be magical... you know what they say, a little rain is good luck!