Ambush weddings are one of the hottest wedding trends of 2014. What is an ambush wedding? It's a surprise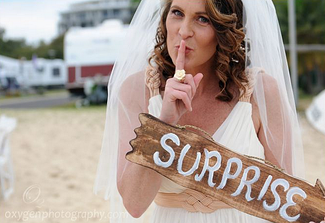 wedding that the guests, and sometimes even the bride, have no idea about. The bride and groom throw an engagement party or something like a house warming party. Guests show up casually having no idea they are actually coming to a wedding.
Why have an ambush wedding? For some, it's a much less stressful way to plan a wedding. There is no hemming or hawing over a guest list, what people want for food, or a lengthy planning process. Who comes, comes. Because the wedding is non-traditional, the couple can just throw a great party with none of the typical wedding events if they don't want to. Our director, Melanie Roy, showed up to an ambush wedding that not even the bride knew about. The groom had the entire event planed a head of time. Here are 8 reasons to have your ambush wedding a Granite Ridge Estate & Barn:
1. Granite Ridge Estate & Barn is in the middle of vacationland in any season.
You can plan a vacation for your immediate families and friends to get them together for a special day. Who would suspect a ski trip turning into a wedding? You can also plan trips to kayak, hike, snow shoe, cross country ski, snow mobile, ice fish, or enjoy a fall leaf peeping weekend in the western mountains. All reasons to come to Maine for a weekend. No one would suspect what you really have planned.
2. The Estate Lodge houses 20 people.
The lodge is big enough for quite a party and provides a gourmet kitchen that is fun for a group. The kitchen is large enough to have 10 people to work closely together with plenty of space. There is also other lodging available in minutes.
3. You have an entire mountain.
128 acres would give you enough space to roam, hike, dance and be merry not to mention a mountain top view for incredible pictures.
4. Maine is an easy state to get a marriage license.
No Blood test required! Here are instructions on how to obtain your license.
5. The barn.
Our newly constructed barn was built with wedding and events in mind. It can seat a party from 50-300. Most event barns, because they were built for working purposes, are too small to seat wedding and events of 100+ without the need to rent a tent.
6. We are an hour from the Portland International Jetport.
Our 24hr concierge will assist you in getting here with no hassle. Southwest Airlines, Delta, Jet Blue, US Airways, and United all fly to Maine.
7. We can help you plan the entire event.
We work with only the best caterers, wedding planners, florist, stylists, officiants, and more. You want it? We can help you find it.
8. We are in Maine - Our State Motto: The Way Life Should Be.
Having your wedding in Maine is a very special thing. If you have a love affair with Maine, you know what we are talking about. The air, the restaurants, the nature, the charm, the rocky coast, the lobster... if you are attached to Maine in some way there is nothing like it. Having your wedding day in this beautiful state is something you would never forget nor would your guests.
Bridal Surprise Source: Penny & Me