With all the planning in details that goes into a beautiful, rustic, barn wedding at Granite Ridge Estate & Barn,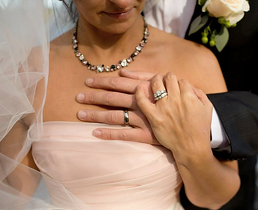 one very important detail can get over looked; obtaining the marriage license. The same rules apply to both straight and gay couples. Two important things to note; a Justice of the Peace cannot marry you in the state of Maine, and almost all town offices are closed on the weekends. Here are 9 guidelines to review:
1. If you are both residents of the state of Maine;
You must register in one of the towns you are residents in. It does not matter which one.
2. If only one of you is a resident of the state of Maine;
You must register in the town in Maine you or your fiance are a resident in.

3. If you are NOT a resident of Maine;
It's incredibly easy to get in downtown Norway, Maine (only minutes from Granite Ridge Estate). However, the office is closed on the weekend. Make sure you go durring the week. The fee is $40.
Norway Town Office:
19 Danforth Street
Norway , ME 04268
Phone: (207) 743-6651
Office Hours: 8:00 to 5:00 Monday-Friday
4. Your marriage license is valid for 90 days and can only be used within the State of Maine.
5. There is no longer a waiting period from the time your marriage license is issued until your wedding can take place.
6. The person performing the ceremony is responsible for filing the marriage certificate with the town office that issued the marriage license.
The license can also be mailed into the town of Norway by your officiant. You can request the official copy be mailed to you as well.
7. What you need to bring with you to obtain the license;
You must bring a photo ID (driver's license or passport).
If this is not the first marriage for either one of you, you will need a certified copy (raised seal) of your divorce certificate or a death certificate of your late spouse.
You must be over 18 years of age; if you are not, written parental consent as well as written consent from a judge is required for applicants under 16.
No blood test is required.
Make sure to call the town hall ahead to be clear that no rules or regulations have changed.
8. Officiants
In order for your marriage license to be officially issued, one of the following types of officiants must marry you:
An ordained minister of the gospel
A person licensed to preach by an association of ministers, religious seminary, or ecclesiastical body
Judges or justices (residents of Maine only)
Lawyers admitted to the Maine Bar (residents of Maine only)
9. Maine does not have Justices of the Peace. Out-of-state Notaries and Justices of the Peace cannot officiate weddings in Maine.
Image provided by : Hailey Tash Photography