Today's Feature Couple: Nicole & Colin. They will be getting married at Granite Ridge Estate & Barn in the fall of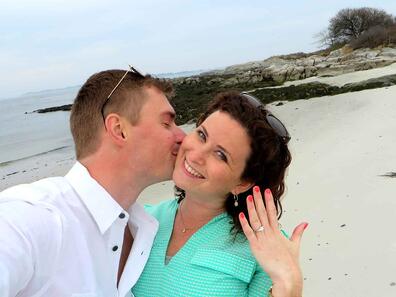 2015. We caught up with Nicole to learn more about their love story.
1. How did you meet?
We actually met in fourth grade. Colin moved to my town and our teacher asked for a volunteer to show the new student around. I raised my hand and we were friends immediately. I was the first person he met when he moved to New Hampshire. In Seventh grade, I had a huge crush on Colin. It was during high school, he asked me to senior prom. We knew from forever ago it was something truly special and unique.
2. How did he pop the question?
Colin planned a romantic weekend dinner at Grace in Portland, one of our absolute favorite restaurants. We were staying at the amazing Danforth Inn, and we decided that the following day they would go to my favorite location, Long Island Beach, in Casco Bay. Unfortunately, when we woke up in the morning it was raining and cloudy. I was really bummed but Colin insisted that I get my rain gear on and head for the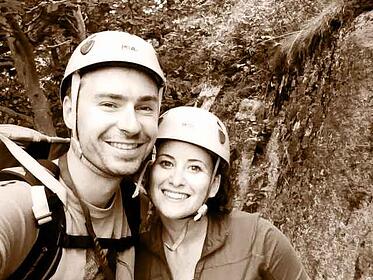 ferry. So, we did! And, as soon as the ferry departed, the skies cleared and the sun came out. And, because of the rain storm, everyone had left the beach which meant we had the entire thing to ourselves. We set up a picnic on the beach with or favorite tunes playing (which Colin had made a playlist for, one of our activities we like to do together) and it was then that he asked the big question. It was PERFECT!!
3. Are there any DIY components or special elements you are incorporating?
Pinterest has helped! I am sure I will get sucked in even more. We would love to make certain things for the wedding because we are both hands on and creative. Colin is a designer and is excited to create the invites and stationary. We are not sure of colors yet, but we are ready to start exploring what exactly we want.
4. Have you chosen a wedding photographer? Are there any other vendors you are exciting about hiring?
We haven't chosen a photographer yet, however, we want someone who is going to mesh well with us and our friends and family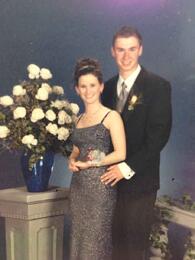 . It is going to be a relaxed atmosphere and we want wonderful pictures as memories of the best night ever.
We are excited to work with Blue Elephant! Fausto is amazing and is the reason we found Granite Ridge Estate & Barn. I have seen what they can do and I am impressed! I can't wait to see what we choose.
5. Have you considered what your wedding theme might be?
We want a rustic elegant look, which is a good mix of Colin and I. I am a little bit of a city girl and Colin is from the west coast and is more rustic. There are so many ideas to choose from! And the barn and ceremony site are the perfect backdrop.
6. What are you most excited about having your wedding at Granite Ridge Estate & Barn?
The lodge is such a convenient amenity to the property. Being able to have my bridal party and closest friends with me during the entire weekend is amazing. Everyone, friends and family from opposite sides of the country and some in the middle, in one spot is going to have a huge impact on the memories of everyone! It is important for us to have everyone there under one roof, all together.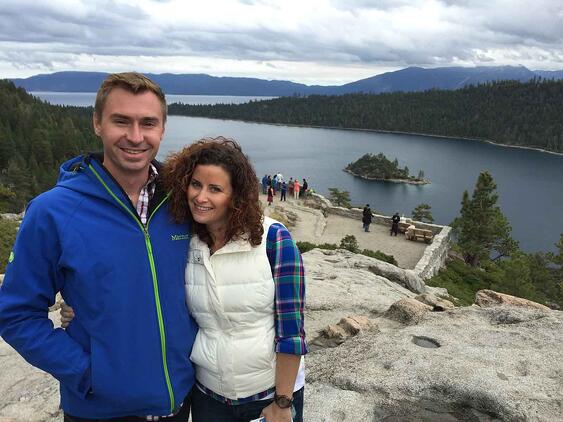 Congratulations Nicole and Colin! We can't wait to see you tie the knot at Granite Ridge Estate & Barn!