Today's feature couple : Chelsea and Mike. This adorable couple will be getting married at Granite Ridge Estate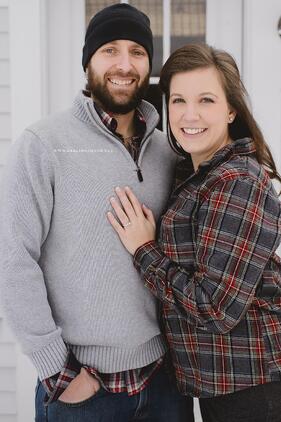 & Barn on November 8th, 2014. We interviewed Chelsea to learn about their story.
How did you meet?
We actually met at my brother's wedding. My brother had married Mike's cousin. We immediately became friends on Facebook and two days later we went on a low key date. We have been together ever since! We have been together for about a year and a half.
How did he pop the question?
Since the end of November, Mike was talking about the "free carriage rides" in Portland that take you all over the town. Mike made a casual reference about booking the carriage ride and told me he made "cheap reservations at a dive." He really down-played the evening so I wouldn't think anything was going on. After the carriage ride, he asked if I wanted to grab a beer and take a look at the trees that were lit up with green lights. I said, "sure!" and when we got there, he dropped to one knee and popped the question. I was totally surprised. The crazy thing is that the only picture I took on that carriage ride that evening was of the green lighted trees he proposed under! That "dive" restaurant ended up being the most amazing meal at Zapoteca. It was so special to enjoy right after getting engaged.
I later learned that he bought the ring with his sister on that previous Thursday, and couldn't wait. He popped the question the following Saturday, December 7th, 2013.
Have you thought about your wedding theme?
We are going to be doing a harvest theme. I am thinking of maybe having each of the bridesmaids in a different harvest / fall color. We were thinking of incorporating a lot of wheat in both the bouquets and the center pieces.
Are you doing any DIY projects?
One of the great things about working with Affordable Events LLC and Blue Elephant Catering, is that I will be doing less DIY than planned. They are both doing a lot for me with decorations and table settings. I will, however, be doing my own flowers. My sister in-law's best friend is a florist and we are having a bridal get together where we will be ordering the flowers and the bridesmaids will be making their own bouquets.
Who are you using for a wedding photographer?
We are working with Jenn from Darling Photography. We couldn't be more excited about her work. Our engagement photos have turned out so beautiful and it's like having a friend around. She really puts us at ease.
What are you most excited about with having your wedding at Granite Ridge Estate & Barn?
We are so excited for the new barn, the property and views, and having enough space at the Estate Lodge to really enjoy the time with my wedding party. I have 5 bridesmaids and 5 grooms. Having everyone together in the same space is going to be so special. You just can't get that with a hotel.
You can follow Chelsea and Mike on their wedding site on theknot.com. Stay tuned for their wedding photos after November 8th, 2014.