The uber talented team at Tide Creative knocked another year of Brand Camp out of the park. The line up of speakers did not disappoint while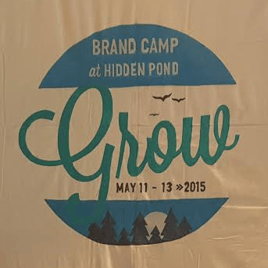 the eclectic and talented group of Maine wedding professionals attending the event once again proved to be the most valuable resource. Brand camp is a unique wedding conference for wedding professionals to learn from the best to enhance their businesses and stay connected.
This year's event was hosted at Hidden Pond, an unbelievably beautiful and quintessential Maine location in Kennebunkport. The cabins, grounds, and restaurant Earth are enough to knock anyone's socks off. I can't wait to go back.
Here are our key takeaways from Day 1:
1. David Beahm = Amazing
David was the Keynote speaker for the event and set the tone with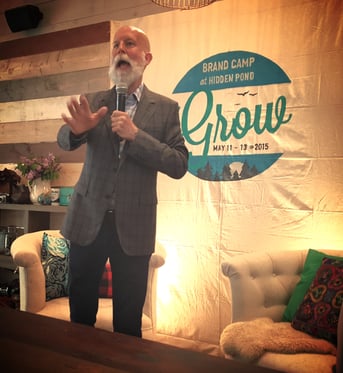 inspirational suggestions of how to run your wedding business and more importantly, how to run yourself. He, and his team of designers at David Beahm Design, plan and design luxury weddings and events around the world. His roledex of A-List clients is almost as extraordinary as his humble and educational personal style. His sayings were repeated by all of the attendees instantaneously. His reference to leaving jealousy at the door was priceless.
Some keynotes from his presentation:
We are here to make good things happen for other people
We are shopkeepers / nothing more than stewards of our business
Work hard. Work harder. Learn to work better.
Be present
Learn to ask questions
See what your people are seeing
Experience what your people are experiencing
Accept change
Admit mistakes
Lose the drama
Say it simply
Be Calm
Smile - it defuses any situation
Be kind because everyone you meet is fighting a hard battle you know nothing about
The smallest act of kindness is worth more than the greatest intention
Do what you do and do it well
Stay in your lane
Let go or be dragged
Breathe
A flower does not think of competition with the flower next to it. It just blooms.
2. Creating Magic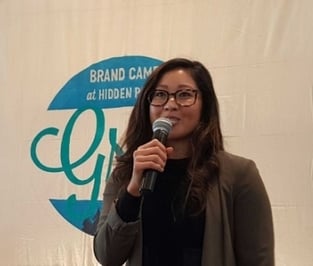 Leslie Wong from Honeybook, a hip and user friendly event professional software company, spoke about the best technology being invisible and that's what you call magic. She used references to the Golden Gate Bridge, Hermes, Apple, and Uber. No doubt, she left us wanting to get to know her and her company.
3. Life is too short to wait for success to be happy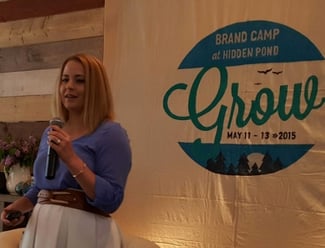 Erica Powell, president of Reverie Gallery gave an inspirational presentation on success and "going for it." Her career has been nothing short of amazing in both sales, event planning, and now the world of blogging. She stressed the importance of finding success in what you do right now and had the group write down what success looked like. Are we already thinking of the next goal before we complete the one we are gong for? Success is a journey, not a destination.
4. Start digging and dig deep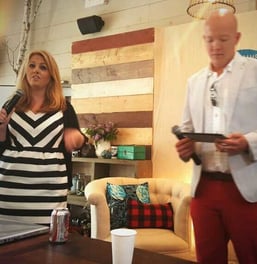 Nicole and Ian Riley, founders of StudioWed, a place where weddings professionals can meet their clients, have built a mini-empire following their dreams, passions, and learning to leave fear at the door. They stressed you have to "trust your gut" and to really look at whats holding you back from doing that one thing you're dreaming of. We also loved the new phrase "Creative Partners" vs. the standard "Vendor" term - brilliant!
5. What branches am I going to step out on?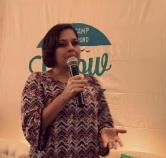 Cynthia Sanches, CEO & Founder of Oh So Pinteresting gave another great life story on following her dream; from being a mom of 4, to a nurse, to taking a giant leap and starting her own company. She is dedicated to helping professionals with social media after falling in love with pinterest, and being discovered at a hair salon. She is a living testament to following your dreams and letting go of your inhibitions.
6. Take Risks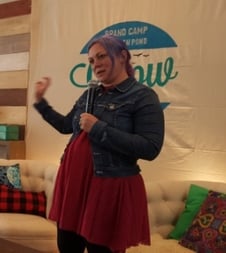 Vanessa Kreckel, crowd favorite and owner of Two Paper Dolls stressed that your "brand" is not just a great logo or website; it's every interaction and experience your customers have with you. Do you fix things? Do you react calmly? She stressed that it's important to always evolve. Her story is an extraordinary tail of taking huge risks and it "always working out." You ARE an animal, Vanessa, and we love it!
7. #Mobile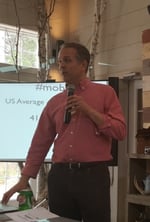 Jason ( J ) Sandifer, founder of Tide Creative, gave a great presentation full of facts on social media, mobile web traffic usage, and how to understand the generation we are marketing too - millenials. The average couple is waiting to get married ( men 29, woman 26.6) and they are Internet savvy. Not mobile friendly yet? It's time! He also stressed that your blog is still the center of your content and social strategy; we couldn't agree more!
The event was a huge success and if you have any involvement with the wedding industry and are located somewhere in New England, we definitely recommend attending it next year.
Thanks again Tide Creative team! #uptabrandcam