On April 1st, we attended an evening of networking with Maine's savviest wedding industry professionals
and the presentation of "The hottest trends for 2014 and What the Brides are buzzing about." The event was hosted by The Knot's Northeast Regional Sales Director MaryLou Pernod and the Northeast Account Excutive Amy Reynolds. Along with Jerry Bazata, of DJ Jaz Music and Entertainment, they were able to provide the industry trends for last year and this year as well as first-hand experience.
During the networking portion of the event, we were able to meet new wedding industry professionals. Hannah Wilson, General Manager of KupCakes, Inc. spoke with us about the popular Portland-based food truck. It was great meeting a young, driven professional who is helping to make quite a name for the company. And what a great product! A cupcake food truck! Anywhere! With offerings of multiple flavors, vegan and gluten free options as well. Amazing. Clearly, I love the concept.

After the networking component of the evening, we got down to business and listened to the trends of last year and what is expected for this year and next. Below are the highlights of the trends and statistics to look forward to when planning your Maine barn wedding.
1. The Venue- Woodland Wedding
The first thing you will need to decide after you get engaged is the venue. You could set your date first, however it may need to be changed if your venue does not have it available. The major wedding trend regarding the venue is Woodland Weddings. Perfect for many types of couples. You can go from having a very rustic, country wedding theme to natural with a splash of glam and sparkle. Allow your guests to escape into the natural landscape and surroundings of being in nature. It's good for the soul. In Maine there are several unique locations to have your wedding at, and all with different landscapes. You have lots to choose from. Check out the different layouts you can have inside the Granite Ridge Estate Barn.
2. To Instagram or Not to Instagram... That is the question.
The technology age that we are in now is wonderful for many reasons. Information sharing and gathering now takes seconds instead of going to the library and taking out an encyclopedia or map to find the answers to your questions. Or, the difference of taking photos on a 35mm camera verses a cell phone or digital camera. Instant gratification. Some couples are fine with having pictures and posts during their big day. It's fun to see yourwedding from your guests' point of view. But, the trend is favoring the opposite. Industry professionals refer to this as Wedding Day Social Media Blackout. Don't worry- there will still be power for the lights and everything else. The point is to have your guests' full attention during the ceremony and reception instead of them getting distracted with their phones or iPads. If you are the type of couple that likes the idea of using social media for their wedding, you can create signs or order them (Etsy has some great ones!) to inform your guests of a #hashtag to use. Instant online photo album! Go one step above that and create an "iSpy" list of certain things you would like to inspire them to take.
3. Intelligence is on the rise!
Couples are now marrying at a higher age (Ladies, our national average is age 29. Here in Maine, the average is age 30), education level (82% are college graduates) and higher rate of employment status. So why is it important? Well, there's a good chance you will make better, more thoughtout decisions. One big decision is the budget and how much you are willing to spend on certain aspects (The national average for a wedding is approximately $30,ooo). If this is your first large event you will be planning, you may not know offhand how much things cost. And, that's ok! The best people to ask are going to be the professionals that can assist in your wedding day needs. Whether you plan it yourself or hire a wedding planner, there is a lot of involvement from start to finish. Because this generation of people getting married is in the heart of the technological age, it is easy to access phone numbers and emails and get direct information much faster.
4. Deep colors are coming back.
This year Panotone has declared Radiant Orchid the 2014 Color of the Year. With a purple base, this color can be cranked up to fuschia-like colors or dimmed down to a pastel lavender. Either end and everything in between is really beautiful. For ideas on how to incorporate Radiant Orchid into your barn wedding, check out our recent blog! Not inspired by the purple hues? That's ok! Try other bold accents such as indigo blue, tangerine or even poppy red. It's your day, use whatever color you like!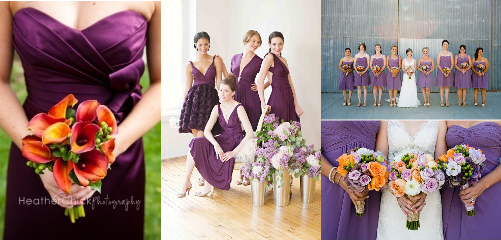 photos by Heather Chick Photography, Weddingchicks.com, and Twobirds Bridesmaids
5. The Celebration lasts long into the evening.
A big trend is not only making your wedding a weekend getaway (dare we say, destination?!) event for your guests, but the wedding reception is lasting longer than previously in the past. This may limit your venue selection, primarily because there are several venues that have noise ordinances. This will cause the venue to ensure that you and your guests are quiet at whatever time the town has decided (usually around 10:30pm). At Granite Ridge Estate & Barn, you have your own 128 acre mountain to use, with no time or noise limitations. Celebrate into the evening so that the perfect day doesn't end until the clock says so! If you are having a band and/or DJ, make sure they are aware of your extended reception time.
These were a few major highlights from the event. Regardless of when or where your wedding is held, there are a lot of details that you will have to think about. Remeber, look to the professionals to help or advise you. If you aren't sure of what your wedding budget should be, ask someone who knows! And, be creative and personalize your day so that you can create wonderful memories for your bridal party and wedding guests. To read the full report of the study TheKnot.com provided us for the event, click here.
Keep Calm and Plan On!