There was not a dry eye when David, Nicole, and their 5 children enjoyed a very small, intimate, family ceremony at Granite Ridge. They were our very first couple to wed with us us while our barn was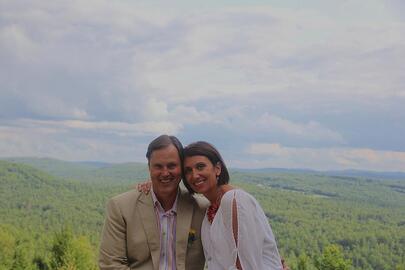 still under construction. I had met Nicole professionally through our partnership with HubSpot, and was so touched when she instantly wanted to get married after looking at my own wedding photos at Granite Ridge Estate & Barn.
The family bond was clear from the start. From their daughter Hannah taking all of the wedding photos like a pro to each of the children combining sand during the ceremony from 2 different great lakes to represent coming together as one, this wedding was a family affair. Nicole had mentioned that one of the family goals was to have the kids see all 50 states together before hey went to college and Maine was on the list! Nicole and David wanted to get married in a place where just the two of them and the kids could come together and have a seperate celebration for the rest of the extended family and friends in Michigan when they returned. We recently interviewed Nicole, here is thier story:
How did you both meet?
"David and I have known each other for 23 years. We feel in love the moment we met. Dating in and after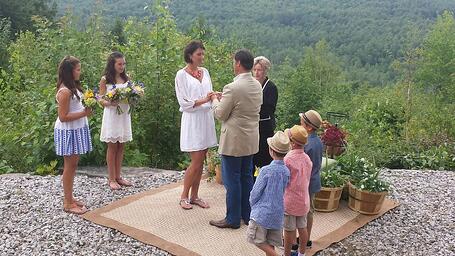 college, we then both went on to pursue our careers and lives. After a few ups and downs of life, we met again 5 years ago and started our own life together with my five children, Hannah, Ella, Andrew, Jack and Reeve.
This year we decided that it was the right time to finally get married to each other, we've always loved each other, but the timing was right.
You live in Michigan, how did you choose to get married in Maine?
"As we planned our family road trip to Maine this summer, the idea of getting married on this trip became our goal. When introduced to Granite Ridge Estate we fell in love with it right away! The breath taking views, the warm and cozy estate, and the remoteness of being able to have our own place to start our journey together."
How was your wedding experience at Granite Ridge ?
"When arriving at the Granite Ridge we LOVED every little thing. They've thought of everything to make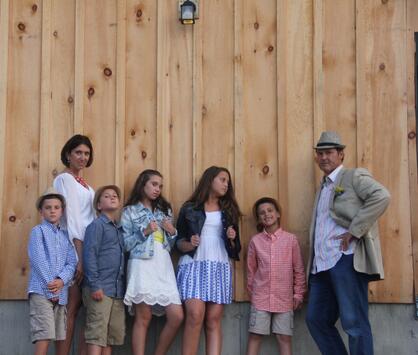 your stay and wedding a success. Melanie was there to greet us and make sure we had everything we needed. The house felt like our own summer home. The views are AMAZING. The hot tub, fire pit and comfy sleeping arrangement made us feel more relaxed.They also have a list of services, flowers, photographers, caterers, places to eat locally, all the way down to how to get married in Maine on their web site which made our planning very easy.
The wedding day was perfect. While we got ready for the wedding we enjoyed the views, music and some one-on-one time with each of the kids. Setting up the wedding was unique to us since our party was small and the barn was not finished. We pulled together an outside ceremony and entrance area with the backdrop of a wonderful summer view.

As the ceremony took place I was over taken with the feeling of love, the love of my husband-to-be, my children and the amazing setting. We all felt truley grateful and blessed to have had the experience."