Today's Feature Granite Ridge Couple: Kevin and Jen. We could not be more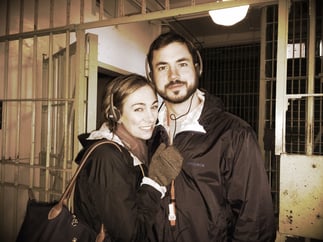 excited for this wedding. An epic gathering of friends, family, and a pup or two will happen this August at Granite Ridge Estate & Barn. This one is a personal one for us and a story that defines the reason why we built the barn. Here is their story.
How did you meet?
We met on the first day of work at HubSpot on June 6th, 2011. Jen was one of the first five people I had met in training class. Jen had her eye on Kevin (and vice versa) and she would ask him to come watch some of the training video webinars at her house in Somerville, MA. Let's just say there was a spark! They kept their relationship a secret for two or three months.
How did you get engaged?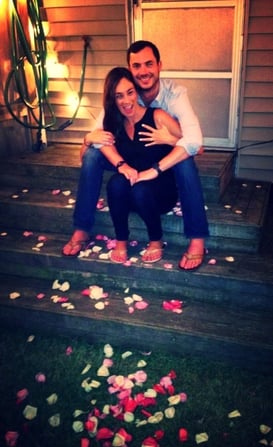 Kevin is a bit of a traditionalist and wanted to be engaged before moving in. They signed a lease in late June and scheduled a move-in date for August 22nd. Kevin asked a work friend, Rachael, for help on how he should do the proposal and she suggested the new apartment was going to be the best place. He asked his future sister in-law to set the "Rachael approved" scene with Tiki torches and cafe lights in the backyard with rose petals from the front door to the back door. Kevin then told Jen that they needed to go to the apartment to sign the lease and walk through the paperwork. Jen was so frustrated and couldn't understand why she couldn't bring boxes and just start the moving process. Meanwhile, Kevin was texting Brittany (future sister in law) while she was lighting 100 tea lights with a bic lighter, and getting the record player set up playing the Luminers. She ran out of site just in time for Jen to notice the music, and Kevin getting down on one knee.
What is your wedding theme?
We want the theme to be rustic elegance. The barn pretty much says it all, rustic chic. Our colors will be gray and blush, but other than that, we want the barn to speak for itself.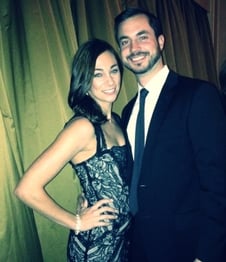 Which Vendors are you excited to work with?
We couldn't be more excited to work with Reuben and Fausto and the entire Blue Elephant team. When we showed up at their office, the spread they provided was incredible for our tasting and they helped us think of our day in ways we didn't even think of. They will also be helping coordinate the day which is something we are grateful for. We are also thrilled for our band, the Silver Arrow Band. They have a DJ for cocktail hour and will be supplying an MC which is awesome. Added bonus, Jill will be playing electric violin for our ceremony.
We also are looking forward to the cocktails from the Bar Association and all of the tables, chairs, and rentals from Affordable Events. We are going with the farm tables and couldn't be happier with the set-up.
Why are you excited to get married at Granite Ridge?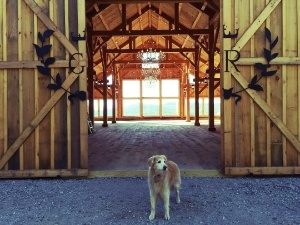 The year we became the closest was the year that Jill (and team) were building the barn and I was super stoked about the idea of it. When I had a chance to see it, it was exactly what we both wanted. We like really nice things but in a relaxed way. The view was always intriguing and I always wanted Lobster Rolls at my wedding if I got married in New England, so Maine was a logical choice! I also wanted to feel back to my country roots. The gorgeous barn and chandeliers just made it. It's glam yet laid back and everyone is going to enjoy themselves.
We could not be more excited for this couple and this incredible wedding. Stay tuned for the pictures!